(Originally printed in the Fall 2011 Issue of the MCOI Journal)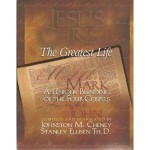 This 300-page, 8-1/2×11" paperback is published by Paradise Publishing (Eugene, Oregon) and is a very handy tool if one is looking for a harmony of the Gospels and a study of the life of Christ. A harmony of the Gospels, as many know is the weaving together of the text of the four Gospels into one flowing story. The flow of Gospel story unfolded in Jesus Christ: The Greatest Life begins, for instance, not with Matthew 1:1, but rather with John 1:1-18, and proceeds in chronological order of events. The narrative is set up so that each verse or partial verse has a number beside it (numbers 1, 2, 3, or 4) indicating whether it is from Gospel 1 (Matthew), Gospel 2 (Mark), Gospel 3 (Luke) and Gospel 4 (John). It is a very simple set up and quite easy to grasp. The numbers are small enough not to distract.

Harmonies of the Gospels are not at all new. The first one known in Christian history is Tatian's* Diatessaron (literally, "out of four"). It was a chronological blending of the four Gospels by Tatian in the Syriac version originating sometime between 160-175AD.
Jesus Christ: The Greatest Life was compiled by Stanley A. Ellisen, Th.D.—a professor of Biblical Literature at Western Baptist Theological Seminary—and Johnston M. Cheney. Cheney immersed himself in the Greek text of the four Gospels for 23 years. The translation provided for this volume was made directly from the Nestle-Aland Greek text (also referred to as The United Bible Society 1966 text) and one of the editions of the Textus Receptus. The UBS text is based on the earliest and oldest manuscripts and fragments with some taking us virtually to the Apostles' doorsteps.
The English translation of the Gospels in Jesus Christ: The Greatest Life would be considered an "idiomatic translation" which is also referred to as a "dynamic equivalence translation" which was common to some of the Reformers. This is an attempt to stay true to the exact meaning of the text while translating some words into the recognized meanings of the current day. It is not a wooden literalism of archaic words. This volume also has the advantage of large clear print and flowing text unlike much the older parallel column harmonies of Edward Robinson, Samuel Andrews, Robert Thomas, Stanley Gundry and the Harmony of the Gospels for Historical Study by William Arnold Stevens and Ernest DeWitt Burton.
The authors hold to a four-year ministry of Jesus on earth (with five Passovers between springs of 29 to Passover of 33AD). However, the exact chronology of Christ's earthly life is an incidental, and there are varied opinions among good scholars. Most scholars put the length of Jesus' public ministry at three years or just a bit more. One can speak with dogmatism on the issue of the inerrancy of Scripture, the Deity of Christ or His substitutionary Atonement; but one must walk softly and cautiously in matters of exact Gospel chronology (unless stated dogmatically in the text).
The Cheney and Ellisen view is derived from the idea that so many events in Jesus' life and ministry would seem rushed or crunched in only a three-year period. Also, there is a bit of a "fudge factor" when Luke says Jesus began His ministry at "about thirty" (Lu. 3:23, cf. Nu. 4:3, 39, 43, 47). This approximation then leaves room for debate over dates among scholars.
John's Gospel mentions three Passovers (2:13, 6:4, 11:35) and another one is assumed, which would make a total of four. Cheney and Ellisen's view is that the one Passover mentioned in the other three Gospels (the upper room passages at Mt. 26:2, Mk. 14:1, Lu. 22:1) does not coincide with any of John's Passover numberings, which would then bring the total to five. It is interesting speculation, and something on which no one could really be dogmatic. There is a larger, longer, and more complex explanation of these things on pages 171-176. Knowing the exact time-frame of Jesus' public ministry should never be a test of fellowship, nor can it be determined with certainty unless and until more historical and/or archaeological evidence is forthcoming. If God wanted us to know that exact detail, He would have given it; so, it must not be needed. This alone does not diminish the value of Cheney and Ellisen's work nor its value to students of Scripture.
The "Publisher's Note" (page 5) informs us that:
Jesus Christ: The Greatest Life combines two previously published works. The first is The Life of Christ in Stereo copyrighted in 1969 by Western Seminary, and the second is The Greatest Story copyrighted in 1994 by Western Seminary. This book incorporates both books with the addition of maps, graphics, timelines and editorial comments. It also includes a numbering of the thirty-five major recorded miracles and pictorial representations in the form of nearly one hundred icons of the major events and teaching in His life.

The work presents the Gospel's account of Jesus in a continuous story with strict adherence to the original grammar, while preserving the best English equivalent. The result is that by omitting duplications of the message the four books can be fitted completely into one. The result is not a hodgepodge or a mere literary curiosity but forms a more convincing and readable story than any of the four alone.
When added to the "Study Guide" and "Leader's Guide" (two additional volumes), these books are an excellent tool for discipleship, individual study, home school, general use, small groups, and could be used at a Bible-school level as curriculum. The "Leader's Guide" easily could be adjusted up to a seminary level.
The "Study Guide" is a workbook set up chronologically to follow Jesus Christ: The Greatest Life translation and harmony and uses questions and a fill-in format. In its 300 pages, it must have over 2000 questions which allow one to deeply analyze and reason through the Gospel material—it pushes one to probe. The addition of the "Leader's Guide" gives the study great flexibility as far as use on a wider basis. All three volumes are priced at $19.95 each.
These volumes are given strong praise by Dr. Earl Radmacher—President Emeritus of Western Seminary as well as Christian apologist, evangelist and writer Josh McDowell.
The Book of Hebrews urges us to be "looking unto Jesus" (Heb. 12:2). The above studies are a great way to do that in-depth with great flexibility of use.
*Tatian= (c. 120–180) was an Assyrian early Christian writer and theologian of the 2nd century.


G. Richard Fisher is not retired from pastoral ministry and lives in Pennsylvania and spends his time writing and conference speaking. Richard also serves on the Advisory Board of MCOI.